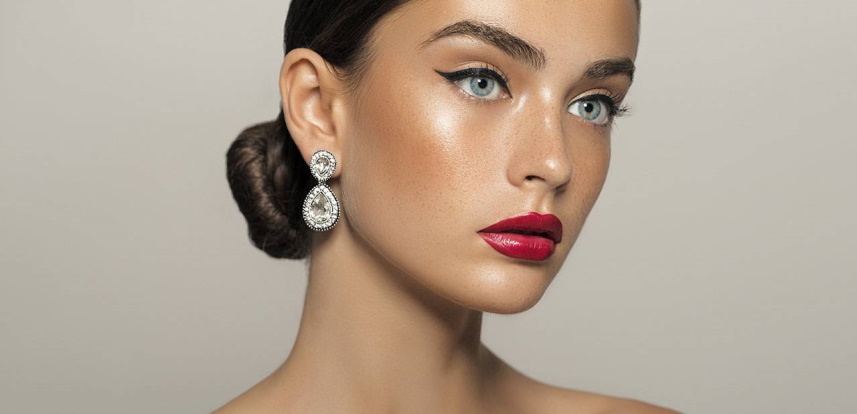 Are you looking for a glamorous makeup look to wear on an evening out? It's easy to do and takes only five minutes! You can also change it up by using different colors of shadow or liner. When choosing the right color, think about your outfit and what will complement it best. This particular look is great with any clothing but would probably work best with dresses or skirts since the smoky eye tends to have a more dramatic effect than natural-looking eyeshadow would. Keep reading to see how I created this gorgeous look in just a few steps!
When you're going out for a night on the town, it's fun to glam things up with some makeup. Here is a look that will have heads turning and ensure you stay in the spotlight.
To begin, apply foundation all over your face and neck using a sponge or foundation brush. You can also use concealer if there are any blemishes or dark circles that need to be covered. Next, dust just a bit of loose powder across your nose to help absorb oil throughout the night. Now for eyeshadow: go ahead and line your top lash line with a black eyeliner pencil before applying two coats of black mascara to both upper lashes. For lower lashes, smudge brown shadow into them starting from where they meet up.

How to do your makeup for formal events
A glam makeup look is perfect for an evening out. It will make you feel confident and beautiful. Here are the steps to create this look:
Step 1: Start by applying a primer to your face. This will help your makeup stay in place all night long.
Step 2: Next, apply a foundation that matches your skin tone. Be sure to blend it in well so that there are no lines or streaks.
Step 3: Apply a concealer under your eyes and around your nose. This will help cover up any imperfections.
Step 4: Now, it's time to start applying the eye makeup. First, use a dark brown or black eyeshadow on the eyelid and blend it well.
Step 5: Next, apply a light shade of eyeshadow to the brow bone and inner corner of your eye. This will help make your eyes look brighter.
Step 6: Apply mascara to your eyelashes. Be sure to coat them well for a dramatic look.
Step 7: Now, it's time to add some color to your cheeks. Use a bronzer or blush and brush it onto the apples of your cheeks.
Step 8: Finally, finish off the look with lip gloss or lipstick. Choose a color that complements your outfit and personality.
With these steps, you can create a glam makeup look that will make you feel confident and beautiful all night long!

Tips for creating an evening glam look
To get that perfect evening glammed-up look, try using eyeshadow and blush with a bit of shimmer and sparkle. When you purchase the products, make sure you opt for a metallic instead of matte shade if possible. Matte shadows can make you look flat when paired with a sparkly accessory such as a highlighter or eyeshadow with some glimmer in it. When choosing a blush color, pick something that compliments your skin tone and gives you that extra glow without being overdone. Try out different shades until you find which one best suit your complexion perfectly.
For maximum impact on the eyes, don't forget about eyeliner! Black liquid liner can help to make your eyes pop which will help you achieve a glamorous look. Instead, try creating a cat-eye by following the natural lash line and extending the line out towards the end of your brows for a more dramatic effect. If liquid eyeliner is not what you are accustomed to using, try purchasing a self-sharpening pencil liner in black instead. This will give you similar results as using liquid but may be easier to work with if you don't have much experience applying this type of product before. Or, if neither option suits your preference, you can always stick with traditional eyeshadow! The possibilities are endless for how many different looks can be achieved just through simple color changes and application techniques.